The Best Places To See Black, Grizzly or Polar Bears
View Larger Map
BEARS TODAY: current situation and conflicts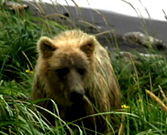 Of the three species of bear in the United States, the smallest and most docile--the black bear--are the ones that end up in the most conflict with people. Grizzly bears (also known loosely as brown bears) are bigger, more aggressive and restricted to the west. Polar bears, though the biggest, only live in Alaska and parts of Canada. Black bear live in 40 states and are hunted in 28.
The black bear, however, is the one that people get in trouble with. The North American Bear Center says black bears used to blanket the continental U.S., but habitat loss and hunting pushed them back to isolated patches along the coasts, in the Smoky Mountains, the Appalachians and by Yellowstone. Black bears were nearly wiped in many areas by the 1960s, but since have come back. But now people are building exurbs in the once remote bear territory. Around the country the bear conflict repeats itself: we now have more bears and more people living in the woods and mountains. New Jersey went from a couple hundred bears to a couple thousand since the early 1970s. California now has up to 30,000 bears, according to Tahoe Wild Bears.
Wildlife managers are coping by teaching people how to live with bear in the backyard. Residents learn that just seeing a bear isn't a threat or emergency. Black bear usually just run when they sense people. The biggest priority is teaching people how not to feed bear--either on purpose or by making garbage, dog food or birdseed available.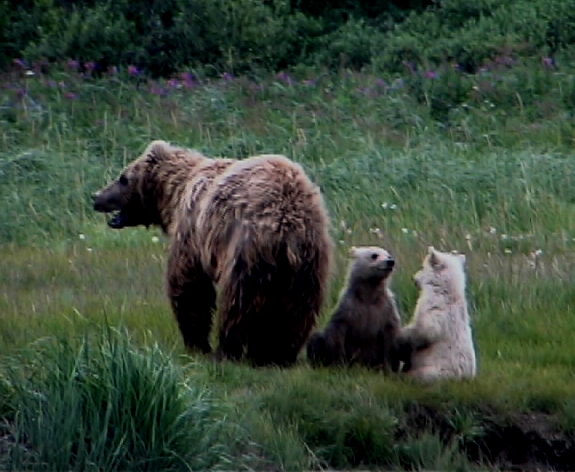 Bears conflicts are on the rise, with bear eating crops, honey and occasionally attacking pets, humans and homes. Hunters point to these incidents in calls for increased hunting opportunities. But the public attitude toward the bear has changed over the last few decades: people want to see bears.
Every major bear population--and some minor ones--have inspired a group of bear-loving people to act as self-appointed bear advocates. They argue for reducing food availability, non-lethal control methods (like aversive conditioning with bear dogs and pyrotechnics) and reduced hunting. New Jersey, where wildlife watchers far outnumber hunters, has been arguing over bear hunts for a decade. The Humane Society of the United States points out that the state agencies that decide whether or not to hunt are by law funded by and composed of hunters and have official missions to promote hunting.
The grizzly or brown bear is more aggressive, but since 98 percent of its American population lives in Alaska, we hardly hear of grizzly trouble. Alaska has a number of sites to view grizzlies on a relatively safe and comfortable platform. Bears at these places are used to humans. known as "human neutral"; they are neither aggressive towards nor afraid of people.
Photos Courtesy of Steve Stringham and the Bear Viewing Association
VIEWING TIPS
The most successful bear viewing is around a regular food source, like a salmon stream. Biologist Steve Stringham thinks bear viewers in the continental U.S. could stake out a stand of productive oak trees in a densely populated bear area. Dawn and mid-summer are the best times.
Unless someone has tipped you off to a spot where bear regularly feed, bears are really hard to find in most of the continental U.S. Just because a park says they have bears doesn't mean you're going to see one. That's partly because as badly as you may want to see a bear, that bear doesn't want to see you.
To improve safety and your chances of seeing a bear, hire a guide. There is much discussion over whether you should play dead or fight if a bear attacks. The answer is that it depends on why the bear is attacking. Grizzlies tend to attack to keep you away from their cubs or meal. If that's the case, you play dead. Black bears, on the extremely rare occasions when they do attack, are more likely to be thinking of you as a meal. If that's the case, you fight back and make yourself look big. That's just one of the reasons you'll want an expert guide.
Whatever you do, don't try to feed the bear (that will make bears associate people with food) or go to some dump or dumpster where bears scavenge (those bears already have a problem associating people with food.)
FAQ
What's the difference between a black bear and a grizzly bear?
About 200 to 500 pounds. Grizzlies are much, much bigger. The name grizzly comes from the grizzled or gray tips of their hair. But, even though grizzlies are sometimes called brown bears, you can't tell just by fur color what species you're dealing with. Grizzlies also have a pronounced back hump, concave face and longer claws. For most of the US the question is easy: it's a black bear. That's because grizzly bears are only out west, where they occupy only 2 percent of their former range, and Alaska, according to the Fish and Wildlife Service. In Alaska, the wilder inland bears are known as grizzlies and the coastal bears, who are more used to seeing people, are called brown bears.
Will a bear attack me?
Probably not. Bears tend to run off when they hear or see humans. Usually only those who have been habituated to humans--gotten used to getting food from people or people's things--stick around. Grizzly bear mommas are known to attack if they even suspect you might be a threat to their cubs. Black bear attacks, though much, much rarer, are more because they think you're food.
How can I avoid conflicts with bears?
Don't feed them. Don't leave garbage out for them. Carry something that jingles and talk loudly while in the woods. Carry bear spray. Read Stephen Herrero's Bear Attacks: Their Causes and Avoidance.
BEST PLACES TO SEE THIS ANIMAL
Click on the emblem for each region to jump to places to see the animal there
Alaska - See other animals in Alaska

McNeil River State Game Sanctuary Bear - AK

The McNeil River State Game Sanctuary has the world's largest concentration of wild brown bears. As many as 72 have been seen at once. To prevent overcrowding only 10 visitors are allowed at a time during peak season, June 7 and August 25. You must apply for a permit by lottery. Only one in 10 wins.The Friends of McNeil River Bear fought successfully to close the area to hunting and continually fights to keep it and adjacent lands closed to hunting the bears, which are not afraid of people.
(907) 267-2182


Katmai National Park Brooks Falls Wolves

- AK

Katmai National Park has a platform at Brooks Falls to view the 100-some grizzly bears that fish for salmon here. The wolves also fish here.
Brooks Camp, about 30 miles from King Salmon, is where most visitors go and it's only accessible by boat or plane.
(907) 246-3305.
The Bear Viewing Association offers tours to the nearby Katmai Coast.
(907) 260-9059.


Denali National Park - AK

Denali National Park has both black bears and grizzlies. Many driving visitors can see the "Big Five" charismatic megafauna: grizzlies, wolf, Dall sheep, moose and caribou. Black bear live in the south side of the park and are harder to see.
907-683-2294


Wolverine Creek - Lake Clark National Park and Preserve - AK

Wolverine Creek near Lake Clark National Park and Preserve is one of the prime bear-viewing spots on Alaksa's Cook Inlet. Both black and brown bear hunt salmon here. In the park bear graze on coastal salt marshes in the summer. You must fly in, then get a guide to take you to see the bear by boat. Most fly in from the Kenai Peninsula, usually from Soldotna.
(907) 235-7903

Tongass National Forest - AK

Kodiak National Wildlife Refuge - AK

Kodiak National Wildlife Refuge on Kodiak Island is home to the enormous subspecies, Ursus arctos middendorffi, or Kodiak Bear. You probably won't see bear just from your car here. There's a lottery to use the park's remote cabins. The bears turn out for salmon fishing in the summer. In spring and fall there is both sport and substinence hunting.
1390 Buskin River Rd, Kodiak, AK (907) 487-2600
Seahawk Air (800) 770-4295


The West - See other animals out West

Southwest Wildlife Rehab & Education Fdn. - SCOTTSDALE, ARIZONA

The Southwest Wildlife Rehabilitation & Educational Foundation rescues, rehabilitates and (whenever possible) releases sick and injured wildlife. They treat black bear, javelina, coati and anyone who needs their help. Educational programs and tours.
8711 E Pinnacle Peak Rd # 115
Scottsdale, AZ (480) 471-9109


The entire Lake Tahoe basin has bears, especially on the California side. With one of the highest bear concentrations in the country, the towns around Lake Tahoe all experience some bear conflicts. Many are trying to get more bear smart by banning feeding, whether that's on purpose or from improper garbage containers. All the state parks around Tahoe have bear. Visitors sometimes see them on the trail behind the campgrounds and Sugar Pine State Park.
530-525-7982


Grizzly & Wolf Discovery Center

West Yellowstone, MT

The Grizzly & Wolf Discovery Center offers a place for injured bears and wolves to live out their lives and educate the public. If you don't see the animals on your visit to Yellowstone, here's your second chance.
One block south of the west entrance to Yellowstone National Park
201 South Canyon, West Yellowstone, MT (800) 257-2570


Northeast - See other animals in the Northeast

The remote Allagash region of Maine has lots of Maine's estimated 23,000 black bear. Because bear baiting is allowed in Maine, guides such as Loon Lodge in the summer can offer tours to bait stations and there's a pretty good chance you'll see bear.


South - See other aninals Down South

Great Smoky MOUNTAIN NATIONAL PARK - TN

Great Smoky Mountain National Park is one of the few places east of the Mississippi to easily see black bears. That's not to say it's automatic, by any means. The best chance is at the Cades Cove loop in spring to fall around dusk or dawn. Do not feed or approach the bears. From Route 321, take 73 south to Laurel Creek Road west. (865) 436-1200


Alligator River NWR Black Bears - NC

The

Alligator River National Wildlife Refuge

has one of the largest populations of black bears on the east coast. As you drive west US 64 from Manteo, NC, to the Creef Cut Wildlife Trail parking lot, you'll see lots of signs warning you not to feed the bear. The trailhead is on 64 four miles east of 264. 252-473-1131

Flat Top Mountain/Rich Mountain Bears - NC

Flat Top Mountain and Rich Mountain have shown some of the highest concentration of bears in a 15-year study of bears by the North Carolina Wildlife Resources Council. In 2005, bears visited 76% of the bait stations in the area, compared with 52% across the state.
The area is north of the Blue Ridge Parkway milepost 294 and the Flat Top Manor, where there is an information station.
Parkway Craft Center / Flat Top Manor at Cone Park
667 Service Road, Blowing Rock, NC (828) 295-7938


Grandfather Mountain Habitat

NORTH CAROLINA

Grandfather Mountain has black bears in an enclosed but mostly natural habitat. They discontinued a breeding program after finding no good placement for the cubs. $14
Blue Ridge Parkway milepost 305
2050 Blowing Rock Highway, Linville, NC 828-733-4337 (Gate) 800-468-7325 (Office)

Midwest - See other animals in the Midwest

Vince Shute Bear Sanctuary - MN

The Vince Shute Wildlife Sanctuary allows visitor the chance to see local black bears in their natural habitat from an elevated viewing platform. Visitors may get to see mothers and cubs, depending on the time of year. Run by the American Bear Association, the sanctuary allows you to see wild--not rescued--bears.
Take Country Rd. 23 west from Orr, MN, 13 miles, then go left to Rt. 514 and look for the signs and the gravel road entrance.
(218) 757-0172


North American Bear Center - MN

The North American Bear Center allows visitors to see and learn about bears, some in intensive workshops. The Bear Center and biologist Lynn Rogers rescue, rehabilitate and when possible release bears. They also conserve bear habitat, educate the public about the exaggerated sense of danger that surrounds bears and try to reduce human-bear conflicts.
1926 Highway 169, Ely, MN (218) 365-7879


Canada -- See other animals in Canada

North Island Wildlife Recovery Association --

British Columbia

The North Island Wildlife Recovery Association runs a special center to raise and release bear cubs along with assorted other wildlife it helps. The center offers educational tours and summer camps.
1240 Leffler, Parksville, BC V0R, Canada, (250) 248-8534


Little, Big Bear Safari

Wildlife guide Richard Goguen shows you black bears by drawing them with bait to Little, Big Bear Safari. People who have gone have been delighted with the treehouse view. His French Canadian neighbors come along, some swearing he'll get hurt one day.

Mid-May to Mid-Oct., every day, rain or shine. $45 / adult, $15 / child
Little, Big Bear Safari, 4120 Route 480, Acadieville, NB, Canada (near Mocton airport)
(506) 775-2354

Telegraph Cove on Vancouver Island is the launch point for many whale and grizzly bear tours. The bear tours head out on boat to Knight Inlet, Bute Inlet or other parts of the mainland.


Churchill, Manitoba, is the polar bear watching capitol of Canada. Many companies and organizations offer tours to see the bears in ruggedized buggies. The Polar Bear Institute lists many tour operators and the Churchill Northern Studies Centre offers learning vacations.(204) 675-2307


Wapusk National Park, MANITOBA

Wapusk National Park's polar bears can be seen pretty much only with the help of a guide. The park doesn't recommend anyone visit on their own. The park lists several helicopter tour guides. The remote Nanuk Polar Bear Lodge offers coastal ground tours to see mother and cubs in the summer and fall. 888-773-8888


Baffin Island, CANADA

Wildly remote Baffin Island, which is in the Arctic Ocean not far from Greenland, has a few polar bear tours from Iqaluit, Nunavut. Some tours camp others tour by boat, hoping to see polar bears, walrus and whales.


Torngat Mountains National Park Reserve

Newfoundland

Torngat Mountains National Park Reserve, along the northern coast of Newfoundland, has polar bears, caribou, black bear and other arctic animals. To get to the park and to see the bears you'll need to book a boat, plane or helicopter.
Travel through either Nain in Labrador, or Kangiqsualujjuaq in Nunavik (northern Québec).


Europe - See other animals in Europe

Austria

Bears Wood (BÄRENWALD) started in 1996 when three bears who were kept as tourist attractions and pets needed a new home. A group of animal activists set up a new home for them as close as possible to their natural setting. In Austria bears were wiped out in 1842 and returned in recent years by crossing borders and reintroduction. Bears Wood Arbesbach is working to ban having bears in private collections. They estimate 25 bears live in the wild in Austria and 50 in captivity, 30 of which are in poor conditions.

Finland

In Eastern Finland near the Russian border you can go out on an overnight bear safari at Raatteen Petobongaus, which has a viewing cabin. Summer only. Finland has 1,000 brown bear. Markku Matero, Suomussalmi +358 (0)40 8434 645

You can stay overnight in a wildlife viewing cabin in Kolin Loma. You'll be hoping to see brown bear and wolverine among the Karelian nature.
+358 (0)50 349 6009 tarja.harinen@kareliaexpert.fi

France

The Pyrenees National Park is the last hold-out for many species that otherwise would've been wiped out in Europe. Right on the border with Spain, the park holds the last six Pyrenean bear (Oso (spanish) or L'ours). The Isard, (Pyrenean chamois) has recovered a bit. The Egyptian vulture visits in summer.

Germany

The

Alternative Bear Park

outside Worbis, Germany, is where abused and neglected bears get to live out their life in semi-natural surroundings. The park was once a horrible, squalid zoo where bears would be bred to produce cute cubs, then eaten. Real animal caretakers took over in the mid-90s. Now it's an educational center, too.