Best Places To See Elk
View Larger Map
ANIMALTOURISM.COM TOP ELK VIEWING SITES

Region

State

Place

Reason

White River National Forest

51,000 elk, which is more than most states have

Yellowstone National Park

Mt. Rainer

2 elk species at park created to protect elk; bus ride from Seattle

National Elk Refuge

Winter feeding ground for 7,000 elk

Busse Woods Elk

An elk herd minutes from O'Hare

Kentucky Elk Herd

5,000 elk, XL from living on rich KY land, are a huge reintroduction success story

Suislaw National Forest

Lots of big Roosevelt elk

Pennsylvania Wilds Elk Herd

Restored elk herd right off Rt. 80

Point Reyes National Seashore

Losiny Ostrov "Elk Island" National Park

A wild elk forest preserve right within Moscow
Elk are part of the deer family; Cervus canadensis is on the tall side of the family. European settlers to North America used their word for moose--elk-- to describe the animal, which is found here and in eastern Asia. To add to the confusion, the elk is really close to the European red deer. They were considered the same until 2004, when DNA evidence showed they were further apart.
The elk or wapati is divided into four current species in each of Asia and North America, but as with many animals biologists are considering whether they were overzealous in making distinctions. North American moose might be all one species or they might be the four they're currently called.
The Fish and Wildife Service says there were 10 million elk in North America before European settlers arrived and hunted the population down to 50,000 by 1900. Then hunters and conservationists jumped in to save the species, but not before the eastern elk species was wiped out. The Rocky Mountain Elk Foundation says that by the year 2000 about 1 million elk roamed the U.S. Nearly one-third or 300,000 live in Colorado. The other elk-rich states are Montana (160,000), Oregon (120,000), Idaho (110,000), Wyoming (105,000), New Mexico (70,000), Utah (63,000) and 58,000 in Washington (58,000). The West's abundance makes the little transplants in the East look meek and sad. But easterners are excited to get to see the herds of western elk that have been transplanted to take the place of the now extinct eastern elk.
The Canadian government's Hinterland Who's Who says the country has about 72,000 elk:
40,000 in British Columbia (in the Kootenays, the northeast and a little on Vancouver Island);
20,000 in Alberta, mostly in the Rockies and near Banff, Jasper, and Waterton; 15,000 in
Saskatchewan in the south; and 7,000 in Manitoba, mostly around Riding Mountain National Park.
The IUCN red list says elk generally are increasing but that elk in Mongolia and China are frequently poached to use their body parts and velvet in traditional medicine.
| | | | | |
| --- | --- | --- | --- | --- |
| Common Name | Scientific Name | Where they live | top weight (pounds) | known for |
| Roosevelt (or Olympic) | (C. c. roosevelti) | Pacific Northwest | 1,000 | biggest |
| Tule | (C. c. nannodes) | Central California | 600 | light coat |
| Manitoban | (C. c. manitobensis) | Manitoba and Saskatchewan | 750 | darker than Rocky Mt. |
| Rocky Mountain (or American) | (C. c. nelsoni | The West, transplanted to PA, AR, MI and KY | 800 | most common |
VIEWING TIPS
If the elk bows its head down towards you--like in this picture--it is telling you to go away. If the animal is watching you instead of doing what you're doing, you're too close.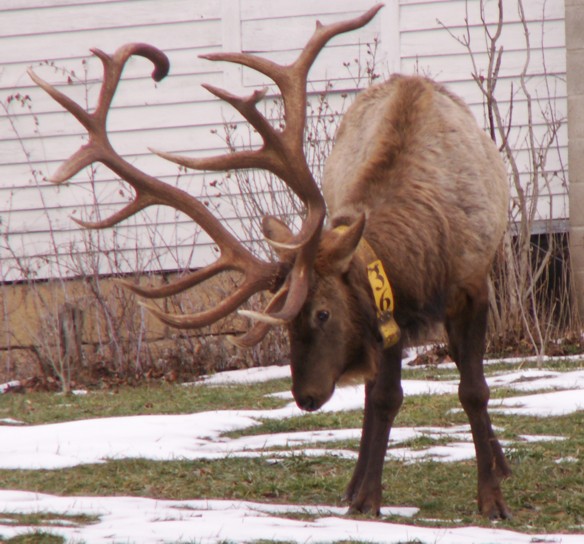 BEST PLACES TO SEE ELK
Click on the emblem for each region to jump to places to see the animal there
More Wildlife Out West

White River Forest - CO

The Gardener Recreation Area near Yampa in White River National Forest has so many elk, administrators close off the interpretive trail from mid-May to mid-June during calving season. Field and Stream ranked this as the number three elk hunting ground in the country, so the viewing can't be bad either. Outdoor Life reported that White River has the highest population in the state--51,000--followed by Bear's Ears region of the Routt National Forest and San Juan National Forest.

Piceance Basin Elk and Deer - CO

Deer and elk come down from the surrounding mountains to winter in Piceance Basin.

Extensive oil drilling may threaten the deer and elk, which has hunters upset. They've gotten the federal government, oil and hunting interests to spend

$6 - 13 million

over the next decade to study the impact on deer hunting.

Rocky Mountain National Park - CO

Rocky Mountain National Park was one of the pioneers in elk restocking. Yellowstone sent them 25 animals in 1914. The herd has grown to 3,000 in the summer and 1,000 in the winter.

The most dramatic viewing is during the September rut, when the elk gather at Kawuneeche Valley (near Grand Lake), Horseshoe Park, Moraine Park, and Upper Beaver Meadows. Trails may be closed. You're meant to stay in your car and keep quiet. Bonus species: mountain goats, moose (especially along Onahu Trail), Abert's squirrel, Wyoming ground squirrel, black bear (rare), marmot and beaver. (970) 586-1206

The Siuslaw National Forest has Roosevelt Elk, the biggest subspecies. Field and Stream ranks this rainy park along the Oregon coast as a top hunting area.
4077 S.W. Research Way, Corvallis, OR (541) 750-7000


Mt. Rainer was set up as a national park to help save the game animals, especially the elk. The park now has two species: native Roosevelt wapiti (Cervus elaphus roosevelti), and elk introduced from the Rocky Mountains (Cervus elaphus nelsoni) according to this Elk Study.
They like the meadows just below the mountains.
All summer Gray Lines offers day trips to the park from Seattle.
Bonus species: bobcats 360-569-2211

National Elk Refuge - WY

The National Elk Refuge just outside Jackson, WY, is the winter home for about 7,000 elk, who get supplemental feeding here. The range was started in 1912 to ensure there would be enough elk to hunt and so elk wouldn't damage nearby ranches. It's grown to nearly 25,000 acres since then. The refuge offers winter sleigh rides and has an annual Elk Festin Jackson in late May to auction off shed antlers Boy Scouts collected on the refuge.
Bonus species: bison, raven, wolves
Kelly, WY (307) 734-9378

Yellowstone National Park - WY

Yellowstone has up to 30,000 elk in the summer, the National Park Service says, but their numbers have been declining since the reintroduction of the wolf. The winter population is down to around 7,000 from 18,000 before the wolves' return, a recent study by the Montana State University says.
In the early 1900s the park was managed to maximize elk populations--even though that meant eliminating predators and creating the problem of overgrazing.
YellowstoneNationalPark.com recommends looking for them near the north gate, headquarters, or in meadows between Mammoth, Norris Junction and Madison Junction and around Canyon Village and Old Faithful.

The Nature Consverancy's

Tensleep Preserve

has elk, mule deer and pronghorn antelope and weasels, especially in the winter. 172 bird species visit the area that used to be the Girl Scouts' biggest camp. Open May-Oct. Has mountain lions and spotted bat, but they're almost impossible to see.101 Rome Hill Rd. Tensleep, WY (307) 366-2671

MORE WILDIFE DOWN SOUTH

Kentucky Elk Herd

About 5,000 elk live in eastern Kentucky thanks to a reintroduction effort by the Rocky Mountain Elk Foundation, which stared in 1997 and ended in 2002. The elk are larger than ones out west because the land here is richer.

Graham Wildlife Management Area, where some of the elk were originally introduced, has a dense herd. Carr Creek State Park and Begley WMA are also likely spots. Be sure to follow signs are rules about accessing the property.

Land Between the Lakes Elk and Fallow Deer

A piece of Land Between the Lakes became a 170,000 acre National Recreation Area in 1963. Buffalo from North Dakota and elk from Elk Island National Park in Alberta, Canada are part of the effort to restore the prairie.
Both animals were native to the area, but wiped out by hunting. Land Between the Lakes in turn sent elk to Cataloochee area in the North Carolina portion of the Great Smoky Mountains in 2001. The park warns that you should stay in or near your car because bison and elk sometimes charge.
Land Between the Lakes also has 150 fallow deer, the largest herd in the country. Native to Europe and Asia, the fallow deer was introduced in 1918.
In early August Land Between the Lakes has a hummingbird festival.
The Elk and Bison Prairie is near where The Trace (Rt. 453) crosses 68/80.
100 Van Morgan Drive, Golden Pond, KY (270) 924-2000 see the map »

Re-introduced Elk in Great Smoky Mountain National Park

A herd of elk were re-introduced in the Cataloochee Valley area of the Great Smoky Mountain National Park in 2001. Land Between the Lakes sent 27 elk the first year and 25 the next. By 2008, the population neared 100.
According to the parks service, elk can still regularly be seen in this difficult to drive to area. You also have a good chance of seeing them near the Oconaluftee Farm Museum near Cherokee, NC.
From interstate I-40, exit at North Carolina exit #20 and travel 0.2 miles on route 276. Turn right onto (partly gravel) Cove Creek Road and follow the signs 11 miles into the Cataloochee Valley. map »

More Wildlife in the Midwest

Elk Preserve at Busse Woods - Chicago

A small herd of elk, this town's namesake, roam in a large fenced in pen in Busse Woods. Visitors are scolded not to feed the elk, but often offer the animals carrots.
see the map »

Neal Smith National Wildlife Refuge Elk and Buffalo

Elk, Bison and Prairie Dogs at Sullys Hill National Game Preserve

Bison, elk and white-tailed deer were re-introduced to Sullys Hill in 1917 and 1918. The bison herd is kept at under 30, about the same number as the elk. Black-tailed prairie dogs were introduced in 1975. The preserve, which was originally a National Park, has an annual birding and nature festival. White pelicans are common in spring and summer. You may also see tundra swan, avocet or harrier.
Take 57 south 13 miles from Devil's Lake, turn south on BIA-6.
(701) 766-4272 see the map »

Pigeon River Elk Range, Elk Captial of Michigan

Michigan has the biggest elk herd in the east--about 800-900 controlled tightly by hunting--and its best viewing is at the Pigeon River Elk Range, off Route 75 in the northern lower penninsula. The mating season in September is the best time to see them. Wildlife officials recommend coming during the week because it gets so crowded. Nearby Atlanta, MI, declares itself the Elk Captial of Michigan and has an annual Elk Fest.

Clam Lake, Elk Capital of Wisconsin

Elk were hunted out of Wisconsin by 1900, but in 1995 the state and the Rocky Mountain Elk Foundation moved 25 of them to the Chequamegon-Nicolet National Forest in NW Wisconsin. They've stayed there ever since, clumped around Clam Lake. The herd is now at 120 and you can sometimes see them from the roadside. The town of Clam Lake proudly calls itself The Elk Capital of Wisconsin.

More Northeast Wildlife

Pennsylvania Elk Herd

A herd of about 500 elk roams around western Pennsylvania roams. There are many official sites to see them, but you may just want to ask the locals where they've seen them lately. The elk often congregate in the Benezette churchyard.
Benezette Store & Restaurant 814-787-7456

California -- See other animsla in California

Point Reyes National Seashore

A herd of 400 Tule Elk roam the Tomales Point (fenced) preserve at Point Reyes National Seashore. About 30 are free in the Limantour wilderness area. This small, light subspecies of elk, which only exists in California, was almost hunted to extinction.


1 Bear Valley Rd., Point Reyes Station, CA (415) 464-5100

Elk Island, Moscow

Losiny Ostrov "Elk Island" National Park (Национальный парк "Лосиный Остров") in Moscow was named after European elk (moose) and also has red deer (elk), the Moscow News reports.
Bonus species: wild boar, red squirrel (especially in Tsaritsyno near Orekhovo metro station where dogs are banned. Also try Kuzminki, Izmailovsky and Pokrovsko-Streshnevo parks) and beaver (the marsh area near Mytischi)

Dafeng Elk Preserve

Dafeng Elk National Preserve has about 1,000 free-ranging elk near the Yellow Sea. The park started in 1986 with 18 of the species of elk that were wiped out from China but kept alive in zoos in Europe. Youcan visit for about
22 yuan. 0515-83391912

See Other Wildlife in Europe

Wildpark Schorfheide is one of the few that have moose, which are known as European elk or elch. They also have Przewalski's Horse, Koniks, heck cattle (auloch) and red and fallow deer and wild boar.

€ 3.50, Prenzlauer Straße 16, 16244 Schorfheide, Germany

Elk House and Museum - Lapland, Sweden

The Elk House or Älgens Hus has a herd of elk you can meet close up and learn about in their elk musum. You can also go on a reindeer safari.

Bjurholms Turist AB,+46 932-500 00,