Best places to see SQUIRRELS
View Larger Map
SQUIRRELS TODAY: current situation and conflicts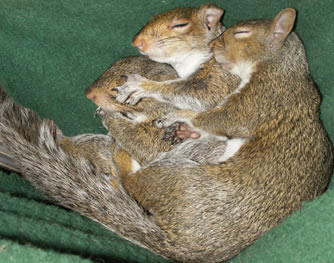 Squirrels are one of the few animals to thrive in the altered suburban environment. They're generalists and opportunists. Most city parks have a denser squirrel population than pre-colonial forests. But the population has certainly fallen in rural areas, which used to see mass migrations of thousands of squirrels.
Most squirrels in the U.S. are gray squirrels (although some of this species are black or white). A few other species are found in certain regions:
Fox squirrel (big, red with a tan belly)
Red squirrel (small and chatty)
Flying squirrel (small and only seldom seen at dusk)
Ground squirrels are generally dark and live in burrows
Western states have a plethora of local varities, including the pine, Abert and Uinta to name a few.
While ridiculously common, the squirrel can still amuse visitors, especially if it's used to being fed and a different kind from your home regions. Festivals and protected areas have been set up for some of the distinct populations of white squirrels, with many towns claiming the title of White Squirrel Capital. .
VIEWING TIPS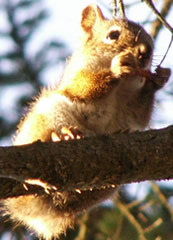 They can't see well directly ahead, so be cautious with hand feeding. They like nuts, but also eat apples, grapes, bananas, leaf buds, insects and bark. The best time to see daytime squirrels is early morning and late afternoon; for most of the year they take a mid-day siesta. In winter they may only have one mid-day outing. City squirrels, who depend on people for nuts, are going to be more friendly.
FAQ
What's the difference between gray and black squirrels?
There are a few species of gray squirrels around the U.S. Confusingly the black squirrels are gray squirrels by species. Many people have developed elaborate theories over whether black or gray squirrels were more aggressive, usually based on the behavior of individual squirrels they know. In reality, gray squirrels are like labrador retrievers: the mother can have black and gray babies in the same litter.
Will squirrels bite me?
Not on purpose--unless they think you are trying to catch them. But they have poor eyesight and are jumpy, so if you feed them by hand they may mistake your finger for a nut. Those handling squirrels are more likely to get scratched than bitten.
Will that squirrel give me rabies?
No, rabies in squirrels is possible--as it is in all mammals--but it is extremely rare in squirrels. The leading theory is that squirrels bit by a rabid animal die because they are small instead of living to pass the disease on.
What should I do if I find a baby squirrel?
First, wait to see if the mother is around and coming to pick it up. But don't wait long because baby squirrels need to be kept warm. If the mother isn't coming back (some may push out extra or sick babies or die from car accidents, predation by hawks or rat poison), your first priority is to keep the baby squirrel warm in a quiet, dark place. Try to find a licensed wildlife rehabilitator from your state's natural resources department. Check the many online resources, such as the Squirrel Board, to find the appropriate food for the squirrel's age. Usually they'll need rehydration (a gatorade-like mix of water, sugar, salt and potassium) then esbilac, a fake puppy milk. Don't give them cow's milk.
BEST PLACES TO SEE UNUSUAL SQUIRRELS
Midwest - See other animals in the Midwest

Olney, IL: White Squirrel City

Olney, IL is one of several towns known for its white squirrels. The 200-some Olney squirrels are albino and can be found in Olney City Park and Millers Grove.

Isle Royale Red Squirrels - MI

Northeast - See other animals in the Northeast

Acadia National Park, Maine

Red Squirrels regularly rattle to scold hikers at Acadia National Park., which makes it one of the easiest places to see this smaller, more chatty species.


Unusual Squirrels of New York City

The smaller the park, the friendlier the gray squirrels will be towards humans because they depend on handouts more. City Hall Park, Union Square and Battery Park are popular to feed squirrels. Foreign tourists often form squirrel jams around their lucky customers.

Stuyvesant Town

This massive housing development on the east side above 14th Street is famous for its high concentration of black squirrels. Black squirrels--just a color phase of the gray squirrel species--can be found all over the city, but there are just a lot here.

Central Park Squirrels are generally not that interested in humans in this large, at times raw, park. The city's only Red Squirrel lives in the Pinetum in Central Park--supposedly.

Prospect Park and Van CortLandt Park Chipmunks live here, but not in Manhattan

Inwood Hill Park and Alley Pond Park have flying squirrels, which you can only hope to see at dusk in the summer.

Plains -- See other animals on the Plains
Texas - See other animals in Texas
South - See other aninals Down South

Dueling White Squirrel Capitals of the World

Along with Olney, IL, and , several southern towns compete for the title White Squirrel Captial of the World.

Brevard, NC:

: Home of the White Squirrels




Kenton, TN: White Squirrel Sanctuary

Marionville, MO: Home of the White Squirrels

Florida - See other animals in Florida
The West - See other animals out West

Kaibab Plateau, Grand Canyon

Kaibab Squirrels, which are black with white tails and tufted ears, live only on the Kaibab Plateau. Once thought their own species, they are now considered a subspecies of the Abert's Squirrel.


Arizona Sonora Desert Museum, Tuscon, AZ

Arizona-Sonora Desert Museum has desert ground squirrels.In the desert squirrels can only live underground and get by on cactus seeds and fruit and on rarer grasses and carrion. The three species you might see here are Harris' antelope squirrel (active year-round, with a stripe that makes it look like a chipmunk), round-tailed ground squirrel (looks like a petitie prairie dog), and rock squirrel. You can also visit bats, roadrunners, barn owls, hawks.

2021 North Kinney Road, Tucson, AZ Hours & Rates (520) 883-2702


Uinta Ground Squirrel - UT, WY

The Uinta Ground Squirrel lives underground most of the year in matriarchal colonies. They only live in Utah, Wyoming, Montana and Idaho, says Utah's Division of Natural Resources, which provides this handy habitat map. The Uinta (pronounced like You IN Tuh) like sagegrass meadows and the treeline, says AnimalDiversityWeb. They're dark with a skinny tail. They hibernate in winter and adults are innactive in the hottest summer months. You might find them in the Uinta-Wasatch National Park, but they're more concentrated up north, especially near the Wyoming border. Wyoming lists them as living mostly along their SW border.


ABERT SQUIRRELS - AZ, NM, CO, UT, WY

Bandelier National Monument is home to They eat ponderosa pine. A colony of 10,000 Mexican free-tail bats roost in the cave above Long House on the Main Loop Trail.
Bandelier National Monument, Los Alamos, NM (505) 672-3861

Flagstaff, AZ

Abert squirrels an be found at the Grand Canyon and around Flagstaff, where they mug tourists.

Harriman, WY

Harriman, right on the Colorado border, is the only area in Wyoming that sees Abert squirrels.

Canyonlands National Park, UT

They only live in New Mexico, Utah, Colorado, Wyoming and Mexico. Here's their IUCN map. Here's where they live in Utah, the pines of the southern part of Canyonlands National Park.

Evergreen and Durango, CO

In Colorado they live in the Rockies from north to south in the state. Lots of their habitat on the front range has been wiped out by development. But Colorado Division of Wildlife says you can find them near Evergreen and Durango. In the Evergreen area, check out the Bergen Peak Wildlife Mgt Area and Elk Meadow Park which, has all kinds of novelty rodents: the tassle-eared (Abert) squirrel, Richardson ground squirrel (like a prairie dog), and pocket gopher. They've also got badger. Near Durango check out the Animas Mountain Trail.

Alaska - See other animals in Alaska
California -- See other animals in California
Hawaii --- See other animals in Hawaii
Canada -- See other animals in Canada

Exeter, Ontario : Lucky Squirrels

Latin America -- See other animals in Latin America
Europe - See other animals in Europe

Fareham- Coconut-Eating Squirrel Capital of the World

Fareham (near Portsmouth) has gained notoriety twice for its coconut eating squirrels. In 2008 the Daily Mail profiled a squirrel that would lift a coconut over his head to eat it in the yard of Vicky Walker, in Portchester, Fareham. In 2010 her neighbor Jane Roberts showed Sky News how squirrels would wear the coconuts like helmets to eat them.



Guesthouse with Squirrels

The To Post Guesthouse (Zur Post Gasthof) has a large squirrel facility out back with five species of squirrels, including the cute, red European kind with the giant tufts of hair on its ears. Roland Jr. Haase has been breeding them for 20 years.

Rathausweg 5, 93470 Lohberg, Germany, 09943 1264





Barcelona Red Squirrels

The red squirrels of Palau Reial de Pedralbes Park in Barcelona are usually shy, writes Iberia Nature, but they come down from the trees in late afternoon.
Palau Reial de Pedralbes, Avinguda Diagonal 686, 08014 Barcelona, Spain, 934 132 400


Asia

Sita Mata Wildlife Sanctuary

SitaMata Jungle Wildlife Sanctuary near Dhariyawad stretches over a wide area, has safari tours and is home to four-horned antelope, panther, flying squirrel, pangolin, wild boar, hyena, jackal, jungle cat, caracal, porcupine and Nilgai. One tourist site after another brags about its giant flying squirrels, which glide through the forest after dusk. But this Rajastan guide says they're seldom seen.



Giant Squirrel Sanctuary