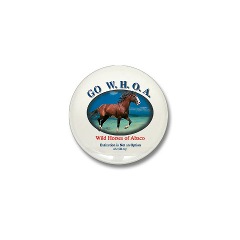 The Bahamas are down to only six wild horses. Genetic tests show they're Spanish Barbs who improbably survived for generations in pine forest and scrub.
Then logging companies came–clearing forests, bringing hunting dogs and flushing the horses into view, according to Equiworld.net.

"
The road put in by the logging company opened the area up to local hunters. When a child died due to her own misbehavior with a horse, locals tried to slaughter all the horses.  Three were rescued and placed on the [
Bahamas Star Farms]
and as their numbers grew they were released back into the regenerating forest," say
Milanne Rehor who founded 
Wild Horses of Abaco. 
Rehor desrcribes herself as a once "horse crazy child," set out to find them after reading of them in a sailing guide. She eventually found that they were real, but about to disappear. 
In 1982 there were 35 Abaco horses. In 2005, the Bahaman government claims it shut down
Bahamas Star Farms
because of a citrus canker; Rehor says the area was clear cut. Now a mysterious illness is killing off the horses. "
It has been invaded by Brazilian pepper and Lantana Sage, the latter deadly to animals. The horses know to not eat it, but it became so thick in one forage area that two ingested it by accident and died," Rehor says. "The area has been closed off and there have been no more loses."
Here's the group's emergency plan.
If this rare population is going to survive, they
need help.
See how you can help out the Wild Horses of Abaco
[youtube=http://www.youtube.com/watch?v=khULmLS-Hgo&hl=en_US&fs=1&rel=0&color1=0xe1600f&color2=0xfebd01]
Related posts: