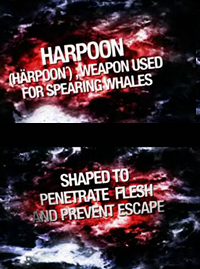 We've seen the battle between whalers and whale-watchers turned into a reality TV hit in Whale Wars; now it's moving to the horror film genre. Iceland's Harpoon: The Reykjavik Whale Watching Massacre features whale watchers cast adrift at sea who are preyed upon by rogue whalers.
You'd think Iceland–where whaling and defying international opinion–are considered almost a patriotic duty, would produce a film with  the Sea Shepherd crew on the rampage. But this film seems to be, dare I say it, more subtle. The family of whalers has gone mad–after they aren't allowed to hunt whales anymore. The trailer shows the whalers shooting harpoons at someone in the water. And the tourist cries out, "No! Please! I'm a friend of nature! No! Argghh!" So, the tourists pretty much had it coming. I'd want to harpoon anybody who said that.
I haven't had access to the film, which played at the Glasgow Film Festival in February and is set to be released in the UK on DVD soon. The MonstersandCritics blog horror fan pans it as "just another average horror film with various characters being pitted against a family of psychotic whale hunters." But I'm glad to see the whale issue now playing out in pop culture. Hey, every movie can't be The Cove.


Related posts: