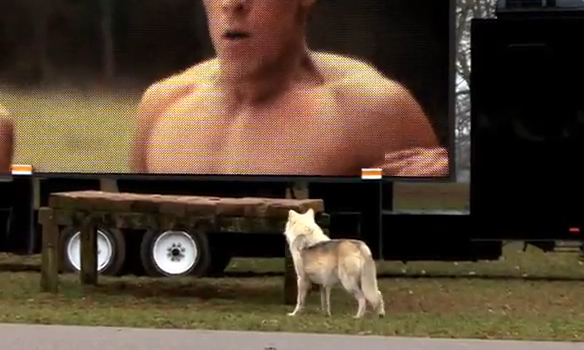 Wolf at Longleat Captivated by Twilight New Moon
The wolves at Longleat Safari Park in England were impressed with the realism of Twilight: New Moon. At a special showing in the their park west of London, they paid attention to the wolf scenes and howled back, the Telegraph reports. They're just the latest tie-in wolf parks are making with the vampire movie.
Sure, the whole "World Wolf Premiere" thing is a ploy for the DVD release. "Whilst we're used to deafening screams for Robert Pattinson, it's a nice change to hear howls of approval for the rest of the cast, including the screen wolves themselves," one movie promoter said. 
But at least the wolves were entertained. Or enriched, as animal care people say. They circled the giant screen pulled by a semi, making sure it wasn't a predator about to attack. Then they started watching and sometimes howling. "They seem to be really keen on the wolf bits," Ian Turner, the park's deputy head warden said.
The folks at Indiana's Wolf Park were way ahead of the Brits. In January they hosted a special night for Twilight fans, who learned the differences between real wolves and those hunks in the film.
As every hack journalist knows, you need three events to make a trend, so here you go. Turns out the animators for the movie got their accuracy on by hanging out at Wolf Mountain Sanctuary in California. "They all climbed into a 40ft pen with the wolves and spent the afternoon feeding, touching and walking around with the wolves, observing wolf behaviour first hand," Digital Media World reports. The wolves at this sanctuary outside San Beradino aren't wild of course; the sanctuary, founded in 1980, has 17 wolves rescued from private homes or the movie industry. The center allows some very close contact with wolves. If you want to see the wolves Twilight makers learned from and help out a sanctuary in financial distress–you can visit. It's $20 for an hour tour, $120 for an all-day visit. Now that would be the ultimate Twilight fan experience.
See if there's a wolf preserve near you
Related posts: