Craig Grant, a gruff looking 62-year-old who wears a cowboy hat and flamboyant mustache, is an unlikely mayor of an adorable Florida cat city. Years ago one cat insinuated herself into his life in Jacksonville and now he runs the cutest cat sanctuary you've ever seen, Caboodle Ranch. More than 500 neutered cats roam a tiny village of wee houses, churches and stores, built specially to house the cat colony on a 25-acre tree farm.
Grant told PlanetGreen recently that he never liked cats till his son left him Pepper for a couple months. "I didn't like cats, but I agreed to keep him. I wasn't used to being alone and I guess Pepper wasn't either. We slowly began to get along," Craig says on his website. Then he took in more cats, got more complaints and bought land and a trailer 100 miles out of town.  It's been expanding with abused and neglected cats and their buildings ever since.
"I moved the shed out to the property and made a little cabin out of it. I thought it would be for me, but many of my cats wanted to sleep next to me… so I moved back into the office trailer where we had more room," Craig says. Now he wants to build a better medical office and has raised $2,500 of the $9,000 needed. His assistant Cyndi notes in the local paper that he'll probably end up sleeping in there, too, to keep an eye on cats that need constant attention (either for medical or emotional needs).
He still works in Jacksonville, so travels 250 miles roundtrip a few times a week. The little houses, built by Pet Palaces, are just the beginning. The Caboddle cats also have underground shelters, tree houses, hay piles and isolation kennels.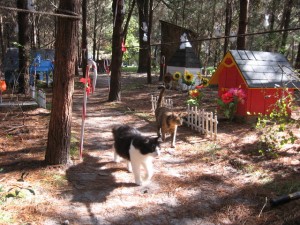 "Caboodle Ranch is now a permanent sanctuary for cats who have been kicked around by heartless people. There are many sad stories between all the cats I've taken in. Some almost starved to death, some of them wounded strays. I've seen many locked in cages for months in animal shelters and have taken in some of those too. Cats should be able to roam free, and at Caboodle Ranch, that's what they do. " — Craig Grant, cat herder
You can visit Caboodle Ranch in Ponte Vedra Beach, Fl, but show up after  2 so Craig has time to take care of cats first. (904) 377-1715. They also need donations and volunteers.
Where to Go See Big Cats
Where to See Animals in Florida
Related posts: