President Obama talked grandly about how he would "restore the scientific process to its rightful place at the heart of the Endangered Species Act, a process undermined by past administrations," but this week his Interior Secretary Ken Salazar brought it all back to the political backroom deal. Monday he met with the governors of three states that have and hate wolves: Wyoming, Idaho and Montana. Together, without any hassle of biologists, conservationists or wildlife watchers, they agreed to somehow push the gray wolf off the endangered species list.
This all goes back to Wyoming's plan to let people shoot wolves on sight, with no regulation whatsoever. Even under the Bush administration, the U.S. Fish and Wildlife Service wouldn't go along with that. So they said the wolf could be endangered in the west except Wyoming. A federal judge this year said that was ridiculous and made the wolf endangered again.
The gist of the backroom deal is that Wyoming would create some fig leaf of a conservation plan like the other two western states, one that still lets them wipe out tons of wolves. Even then the Wyoming governor grandstanded that he hadn't agreed to anything. Montana Gov. Brian Schweitzer told the AP that if Wyoming remained stubborn, Salazar promised to work with Idaho and Montana to pass bills in Congress that would exempt the wolf from endangered species protection.
Wow, that Ken Salazar is some kind of master negotiator. He's already agreed to support a bill that would give Wyoming yahoos what they want. What, exactly, did the rest of the country get out of this backroom horse-trading? We gave away a horse and what did we get in return?
Schweitzer said they hadn't even discussed changing the absurdly low targets of 15 breeding wolf pairs per state. Wolves have territories of from 25 to 100 square miles. Idaho is 85,000 square miles; Wyoming 100,000; Montana 150,000.
Or how just stopping the massive subsidy to the cattle industry and letting grazing rights on federal land go to auction–like logging rights do?
Or cutting the budget for the USDA to kill coyotes for ranchers?
Did we get anything out of this purely political deal? Nope. But now western Republicans have a new platform to grandstand. They can hate on wolves like eastern conservatives can despise train travel. Nevada is jumping right in, saying they want residents to shoot wolves as often as they can–even though Nevada doesn't have wolves and those residents would be violating the Endangered Species Act.
As the AP describes it, the governors want to protect livestock and "other wildlife." No they don't. They want to protect hunting. Even though far less people hunt than go wildlife watching for fun. But, let's not let numbers or science get in the way of wildlife policy.
Defenders of Wildlife Action Alert
Where to Go to See Wolves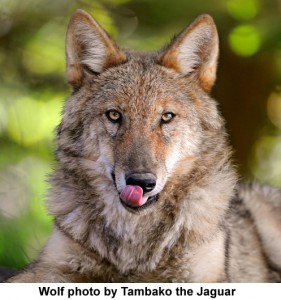 | | | | | | | |
| --- | --- | --- | --- | --- | --- | --- |
| PARTICIPANTS | Fishing | % | Hunting | % | Wildlife Watching | % |
| TOTAL U.S. | 29,962,000 | 13 | 12,534,000 | 5 | 71,0068,000 | 31 |
| ID | 222,000 | 20 | 121,000 | 11 | 432,000 | 39 |
| MT | 181,000 | 24 | 146,000 | 19 | 412,000 | 55 |
| WY | 98,000 | 24 | 52,000 | 13 | 194,000 | 48 |
Source: U.S. Fish & Wildlife Service The National Survey of Fishing, Hunting, and Wildlife-Associated Recreation, 2006
Related posts: