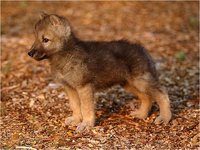 The New York Wolf Center is selling tickets to one of the rarest animal encounters in the country: for $250 you can reserve a one-hour time slot to play with a tiny wolf puppy next summer. The wolves will be the "generic" gray wolf and are destined to be "ambassador wolves," that is, animals that tour in educational demonstrations.
The center is getting two wolf pups from a breeder sometime in early summer. These wolves will never be released, so the center wants to teach them to get used to humans–and as many humans as possible. They'll also have staff nannies who bottle-feed and sleep with the pups. They'll wait till the pups are about a month old and have all their shots before introducing them to the public. Then, there's a three month window for playtime, says
Spencer Wilhelm, operations manager.
The playdate costs $250 for one person or $400 for two. But 120 of 200 slots available have sold out in five days, so it's possible they've underpriced the experience. I've never heard of a wolf playdate available to the general public before. He says the International Wolf Center in Ely, MN, did allow the public to participate in some nannying activities. But that's way up by the Canadian border; this is an hour from midtown.
The Center can use the money; they're supporting a huge population of Mexican gray wolves. Twenty-four lobos live there compared to only about 40 in the wild because the US Fish and Wildlife has caved to rancher pressure and effectively stopped releasing wolves.
Related posts: