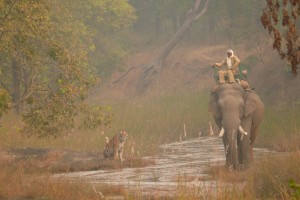 A while back we visited with SEE Turtles, a great outfit that hooks up people who want to go see turtles with experiences that are good for turtles. They've just announced they are vastly expanding into SEEtheWILD, hooking up animal tourists with programs around the globe that benefit bears and birds, too.
Marine biologist Wallace J. Nichols started the project as part of The Ocean Foundation a couple years ago, but even then hoped to turn it into something bigger. "We figured  if we were successful, then we'd wannt to expand it so it could be bigger than turtles," says director Brad Nahill. Now that they've had 250 travelers and volunteers, they're branching out to become a kind of clearinghouse of ecotours that you can trust actually support the animals and their human neighbors.
The trips aren't cheap. They seem to range about $300 a day, but some are more exotic, like a $6,000, 11-day, Namibia and Botswana safari, not including airfare. A couple that are pretty affordable like a 5-day swim with whale sharks adventure in Mexico for $700 or a 3-day $800 trip in southern California to help study whales. Eventually, they'll let other outfits apply, but they'll still have to meet strict criteria that shows they support the animals and local community. At least 5% of the income has to goes to local conservation or development and at least half the guides have to be from the country where the tour is based, for example. And, just like SeeTurtles, they've got something of everyone from hands-on volunteers to socially responsible vacationers.
Related posts: