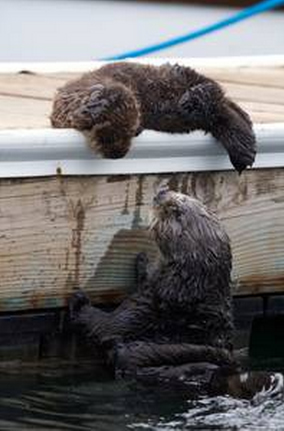 Wild Kingdom kicked off its ninth season on Animal Planet last night with an episode on Monterey sea otters–much more specifically on a mother otter who raises her pup on the docks of Monterey Bay. The old show recently took on a new twist: instead of one host blandly covering a broad species, they let one expert guide us through a specific situation. Here's a newer twist: they zero in on a specific family.
In this case they backed off focusing on the guy who watched over the sea otter family. Instead Jim Capwell was seen as just a guy with a docked boat who took an interest in them. I think he's a bit more. He runs a diving boat and is part of Bay Area Underwater Explorers, a group of conservationists. The Monterey Bay Aquarium, who stepped in after a big injury, could also be heroes. But I'm grateful there isn't too big of a focus on human characters; the narrator is invisible and unobtrusive.
The real stars were the otter and her pup and once again Wild Kingdom got impossibly cute and informative footage. They show how the otters, who normally live out in the kelp forests and crack open crabs on natural objects, adapted to living in the harbor and cracking crabs an clams on boats' bows, which they've figured out is the hardest part. Though, if there used to be 20,000 California sea otters and there's now 3,000, I'd say there's a good chance they used to live in harbors–and that more will.
I do wish they were shorter on the foreboding, schlocky cable TV narrative–not that it didn't totally have me worried about the family–and longer on marine mammal talk. Could Capwell have supplemented their food if he wanted to? If the population recovers more, where might they turn up next?
The music choices are a lot more fun–and conspicuous.  But Wild Kingdom still is the best wildlife show on American TV and it avoids almost all of the cable TV trappings.
See a clip from Wild Kingdom
| | |
| --- | --- |
| | Where to SEE WEIRD ANIMALS Coait, Prairie Dog, Otter, kangaroo, skunk, porcupine, salamander, snake, squid, pretty much anything rare |
Related posts: