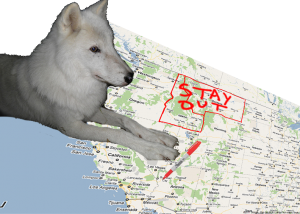 Budget deal shafts wolves
Remember how President Obama was supposed to have bravely stood up to House Speaker Boehner demands that to throw a bunch of right-wing political provisions into the budget. The New York Times says that when Boehner asked about the riders on abortion and other policies, he was rebuffed: "Nope. Zero," the president said to the speaker. Mr. Boehner tried again. "Nope. Zero," Mr. Obama repeated. "John, this is it."
Well, the Center for Biological Diversity says not so much. They report that Sen. Jon Tester (D-Mont.) is leading a charge in the Senate that would take wolves off the endangered species list in Idaho and Montana. And maybe lead to the same deal in  Washington and Oregon, too. The near-secret rider would "set a horrific precedent to further undermine the Endangered Species Act by excluding other species on political whim and preventing environmental groups from being able to enforce the law," the center says.
The Idaho Statesman says Idaho Rep. Mike Simpson successfully slipped the rider into the budget compromise in the house.
It's basically the same settlement worked out among the USFWS, hunters and those who sued to protect the wolf. But it's also the same one knocked down by Judge Donald Molloy Saturday. Not a huge surprise, since he was the one who got rid of the first plan to say wolves were endangered in some state but not others. He reasoned that not all the lawsuit parties agreed and that "the District Court must abide by the responsibilities that flow from past political decisions made by the Congress." So, at least he thinks that that rider will make it okay.
NOAA protects Orcas in Puget Sound–mostly
Because the number of killer whales in Puget Sound has been shrinking as the number of whale-watching boats have been climbing, NOAA made the rules for whale-watching boats tougher. They'll now have to stay back 200 yards. But, like many whale-watching regulations, the rules leave out some boats. You also can't intercept a whale or lay in wait in its path.
They do include all types of personal watercraft: motor boats, sail boats and kayaks. So it means that rules apply–at least theoretically–to the personal and rental craft that often bother marine mammals the most. But they specifically exclude vessels actively fishing commercially, cargo ships in lanes and government and research vessels, the San Juan Islander says.
NOAA originally proposed setting up a kind of orca summer sanctuary on San Juan Island's west side. But they caved to fishing pressure and say they're still thinking about this part. Maybe just a smaller sanctuary? It's amazing how that manatees in Florida understand that their little penned off areas are no-go zones for people.
Pennsylvania moves porcupines from "protected" to "open season" after four complaints in four years
After 30 years of protecting porcupines, the Pennsylvania game commission is set to declare open season–meaning you can kill them anytime, anywhere. It's always been legal to kill porcupines that have been causing damage, the Philadelphia Inquirer reports, but some of the people who wanted to kill them were apparently confused by the rules and complained. The Inquirer says data shows the state only received four reports of porcupine damage in the last four years. And they say that the game commission member Dave Putnam "acknowledged the scarcity of porcupine complaints and lack of data." They haven't even bothered to survey how many porcupines they have before they start allowing shooting them all.
Related posts: