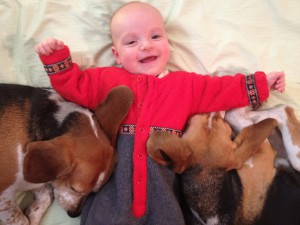 You've heard the one about the couple that are told they can't get pregnant, so they adopt a baby, only to find themselves suddenly giving birth to one. People like to torture infertile couples with the story, the lesson being: just relax. We've got a similar story. After about five years and 12 rounds of fertility treatments, including four IVF procedures, we gave up. We didn't get a human baby, but we did decide to adopt two beagles sprung from a NC laboratory thanks to a PETA investigation. And on the very day we brought them home, we got pregnant.
At the end of July, we had our daughter, Ginger Sylvania Vinzant Lidsky.
She will be raised with much love and gratitude by us and the beagles.
Like many couple we fall into the unexplained infertility category. There's no known reason why it never worked before–or why it worked on that day the beagles came home. We had originally planned to be embarking on a once-in-a-lifetime trip to South Africa on that day. But, once we got word we were approved for the beagles it helped seal our decision to put off the trip. We tell Moxie and Huckleberry all the time that they are our good luck charms and without them, the course of our lives would have run differently and we wouldn't have Ginger.
We probably wouldn't have adopted two institutionalized, totally unhouse-trained beagles if we knew we were going to get pregnant. But, I like to think that opening our lives to fun and chaos played a part in getting pregnant.
 Read more about our beagles
Related posts: