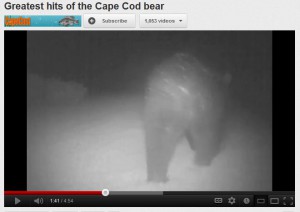 MA Wildlife officials said Tuesday they were ending the spectacle of the Cape Cod bear by sending him back to the mainland. They dumped the bear, who turned out to be a young male–no surprise–somewhere in the middle of the state. June is black bear mating season. He was either out looking for a mate or his momma bear kicked him out so she could mate again herself.
The bear was first seen on Cape Cod, which is separated from the mainland by a 500-foot wide canal, over Memorial Day weekend. Since then he popped in towns on a 60 mile stretch to Provincetown, where they caught him after he ate from a birdfeeder.
Cape Cod has a reputation for being snobbish, but people loved their guest bear. My favorite was Wendy Northcross, the head of the chamber of commerce, who friended the bear's avatar on Facebook and said "It's sort of like the Queen's Jubilee in England. Everyone's just having a good time."
The bear was 180 pounds, male and about 2.5 to 3 years old, Jason Zimmer, a state Fisheries and Wildlife district manager, told the AP. It's no surprise that he's a young male because in just about every species, that is who goes out pioneering new territory. What's odd is the potential six month gap in his birthday. The Cape Cod bear, like all North American black bears, was born in January or pretty close to it. He stayed with his mom for about a year and a half until she kicked him out to mate again. I wonder if that's what just happened in the last month since this is black bear mating season.
MA actually has a bear population of about 3,000 and growing, the state says. Almost all of the population, or at least the hunting, is in the far western part of the state, with just a handful shot in Worcester County. The bear may have grown up in CT. CT bears live mostly near Hartford's western suburbs. Bears even live in tiny Rhode Island these days.
All over the east coast, black bear numbers are going up, thanks to better habitat and people not panicking and wanting to kill them whenever they see one. Just like every other species in North America, the black bear population is managed by state and federal agricultural and recreation officials. Ironically, part of the reason the numbers are going up is that people do want to kill them, but just for fun, not out of fear. So, hunting-oriented wildlife agencies let the numbers go up by limiting bear kills and targeting males instead of females. But then, the people who like bears, want to curb the hunting.
Anyway, good luck Cape Cod bear.
Related posts: