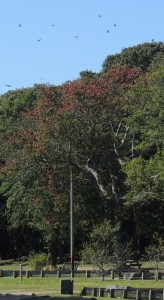 Crows got hit hard by West Nile Virus, but they are still putting on a noisy show on Cape Cod. Wayne Petersen, director of Mass Audubon's Important Bird Areas, says the Cape population is healthy and the birds regularly fly over to roost on Martha's Vineyard.
I live in New York, where I hardly get to see crows anymore. One CDC study found that two-thirds of IL crows were wiped out by West Nile. On a recent trip to Cape Cod I found crows cawing on our roof (but never giving us the satisfaction of eating food we put out), picking at tidal flats beside gulls, hanging around a fish hatchery hoping for a miracle and, most interestingly, flying en masse at night as if to a massive roost that I couldn't find.
We were staying in Sandwich, so I asked any likely outdoors person where the crows slept (not a quick way to make friends). I learned that about 100 spend the night at Crow Farm (which is a family name, no relation to the bird.) At dusk we'd go for a treat at Ice Cream Sandwich and regularly see dozens, maybe hundreds, flying  north–the opposite direction of Martha's Vineyard.
Petersen says that doesn't necessarily mean they weren't heading to the island. "Crows seldom go directly to the roost," he says. Wiley crows like to keep their sleeping tree secret from humans, who are still allowed to shoot them almost without restriction in MA and across the country. "Small family groups coalesce into mega groups," Petersen says. They make conspicuous noise, then fly off. As Jon Young wrote in What the Robin Knows, the last place you hear a bird at night is often not where they actually sleep. They are like bandits throwing off a police tail in a car chase–they attract attention, double back, then go silent.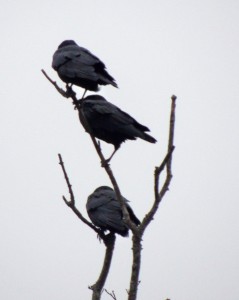 If you watch over the water you can see crows flying from Falmouth at dusk to Martha's Vineyard, then returning at first light. The Vineyard Gazette's Mark Alan Lovewell says birder Robert Culbert is studying their habits and watches them at the East Chop Lighthouse in late afternoon.
As the winter gets colder, the corvids migrate down from Canada and the roosts get bigger, peaking mid-winter. In South Boston crows have a wandering roost, that shows up in different places, from West Roxbury to Brooklyn, Petersen says. You can more reliably see them among the bright lights of Shopper's World mall in Framingham.
The region's most spectacular crow roost is in Hartford, sometimes on I-84 near Aetna (here's directions to their campus, near exit 47).
In the winter you can find the northeast's secondary crow species, the fish crow, in small numbers by fast food restaurants on the mainland side of the Sagamore Bridge, he says. Fish crows were only confirmed on Martha's Vineyard recently, but maybe just because people didn't distinguish them. They're smaller and more nasal-sounding than American crows.
There's no specific way to attract these charismatic and brilliant black birds. They turn up anywhere from low tide shores to plowed fields to fast food dumpsters. But they are so wary of people they won't eat from feeders. If you see a big flock or roost, consider yourself lucky.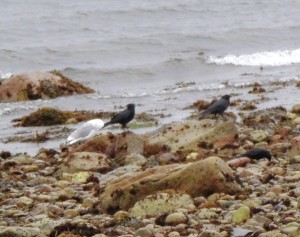 Read about Vancouver's crow roost
Related posts: