Everyone is good at something. Our Huckleberry is perhaps the best beagle in the world at chasing pumpkins downhill. (He's also great at cuddling and empathy) We invented sports for each of our beagles, who were rescued from a laboratory that PETA helped shut down.  They were shy and scared, but now look what sports and the love of treats has done for them.
Huck at first didn't know what treats were and wouldn't take them. So I started offering other things, including apples. We got them in the fall (our third beagleversary is coming up) from Associated Humane in New Jersey. Huck decided to slowly decided to take bites of everything–including gum on the street, jack-o-lanterns and ornamental kale. Those remain his sentimental favorites–except for the gum.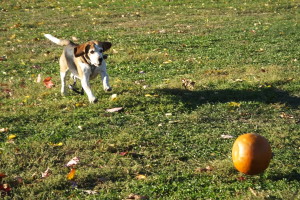 We roll the pumpkin down a hill in Prospect Park, Brooklyn. Huck and his sister Moxie chase after it. If it's a good roll, he'll bark at the pumpkin. Then he gets to eat it. It takes many rolls, but eventually he breaks in. Other dogs sometimes join in. Huck is visibly proud of his pumpkin and his skill. The only time he growls is if some other dog tries to steal his pumpkin. Moxie will occasionally succeed–more to piss off her brother than because she really wants it.
Moxie's real sport is peanut butter tree. We smear a tree with peanut butter and the dogs jump up to lick it. Moxie is unquestionably the world champion of this sport. There's a particularly leany tree by Prospect Park Lake that she climbs–well above our heads and far beyond the peanut butter. She is just showing off.
We're showcasing both sports–along with a howling contest–at a beagle meetup in Prospect Park this Saturday morning, 8-10, behind the picnic house, to coincide with the FIDO coffee bark. As always, any kind of hound mix (or any dog who wants to play the games) is welcome. We're not purebred jerks; that's not the beagle way.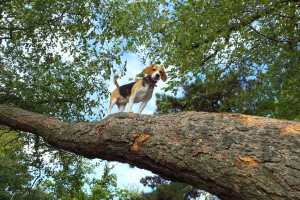 More info on the beagle meetups in NYC. 
How to play peanut butter tree

Related posts: