Elk are moving back to Missouri this spring–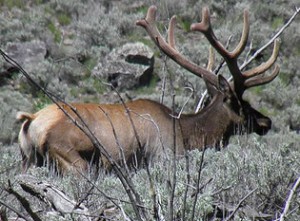 the first time in 150 years. About 50 elk are rounded up right now in Kentucky and awaiting a whole bunch of medical tests in a 90-day quarantine before moving to Missouri in April. It's the latest effort of the conservation/hunting group the Rocky Mountain Elk Foundation to repopulate the east its long lost elk. Or, actually, since we wiped the eastern elk out, it's the next best thing, a close subspecies, the Rocky Mountain Elk.
David Ledford has worked on restoring elk to the east for the Rocky Mountain Elk Foundation and now the 
Wildlife Foundation
. It's a long-term dream, with elk now in Kentucky, Arkansas, Pennsylvania, Tennessee, Virginia and North Carolina. This year they're getting formally introduced to Missouri and next year they'll be released in Virgina, where they have already wandered, uninvited. Virginia has resisted elk, the 
Roanoke Times
says. Even Missouri took a decade since the first study. The Farm Bureau worried about car accidents and elk eating crops. But the elk are moving to southeast Missouri, which doesn't grow much. "They were screaming like you would have a herd of elk in the middle of your cornfield," Ledford says. "If one did walk 400 miles to get there, they'd catch it and bring it back."
The elk will have to hang out in pens for six weeks behind a fence in the Peck Ranch and Current River Conservation Area, just to get used to their new home. It's a 346-mile area, mostly public owned or at least public accessible. The push to reintroduce elk comes from hunters, but plenty of wildlife watchers enjoy it, too.
The relocation project was
originally estimated to cost $400,000
, but that was for up to 150 elk. The state should earn the money back with elk tourism. Elk hunters and watchers spent an average $1,200 in a 2007 study. outed and/or hunted for elk was $1,148.
Trailsrus.com compiled studies
on the economic impact of elk hunting and viewing; the gist of it is that it pays off big. The leader is Kentucky, which began trucking in elk in 1997. "Kentucky did it and did it bold and stocked over 1,500 elk. They had tractor trailer loads of 400 elk coming from Utah," says Ledford. "And it's taken off." Knott County now promotes itself as the
Elk Capital of the East
and Clay County is the
Elk Gateway.
Related posts: