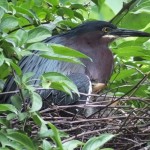 Something is going on with nests in Prospect Park this season. They're everywhere. You can't walk 50 feet in the park bumping into some adorable tableau of chirping baby birds. Half the trees in the park seem to be brimming with exhibitionist robin families. The big unusual nests this year are green herons and wood ducks (which are living somewhere near dog beach–but where they nested, I don't know.)
Green herons are nesting on the lullwater and near the less-fancy bridge by the boathouse.
Swans in the park, as if in defiance of a potential plan to wipe them out, are multiplying. They have two nests, one helpfully placed on an island by the ice rink to make for easy viewing.
I havent' seen barn swallows build nests on the boathouse yet, just in the tunnels.
These robins are so desperate for attention they build nests at eye level, sometimes
Keep reading Nest Quest in Prospect Park